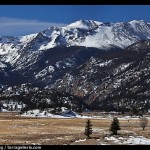 As I write, I am sitting in a hospital in Colorado Springs, waiting while my dad is prepped for surgery to replace a valve in his heart. We are two days into spring and in the middle of Holy Week.
All of this—the hospital, the surgery, the season, the church calendar—points to one thing: expectations.
Outside the windows I can seek majestic Pikes Peak, peppered with late snow. Between me and the mountain are brown grasses and the bare branches of trees that haven't quite begun to show the green buds of spring…but they will soon, in spite of tomorrow's forecast snow.
Down the hall, my father is getting ready for a procedure that will give him new life; he is even anticipating the very real possibility of getting back on the ski slopes that he said goodbye to a year ago.
Jesus, at this point of Holy Week, is still being hailed as a conquering hero. His followers then—and we today—are still anticipating great things from God.
Hospitals and Holy Week, surgeries and Spring. All offer hope. And yet all also bring uncertainty. People die in hospitals. Surgeries fail. Spring (especially in Colorado) can quickly be hidden by late snows. And Holy Week reaches an apparent climax at a cross-topped hill.
But the hope and the uncertainty are held in tension by something stronger than both: faith in a good and sovereign God.
This Holy Week—this Spring—will you look forward in faith?