Be still—cease striving—and know that I am God.
Psalm 46:10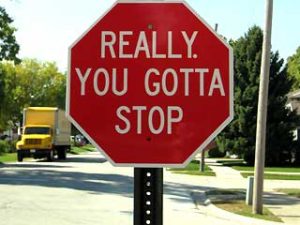 Doing, I have found, is much easier than ceasing. We never ask, "what are you ceasing today?" It's always, "what are you doing?" Our identities are wrapped up in the question, "what do you do for a living?" Ceasing, stopping, and resting all feel like lazy cheating.
Psalm 46 begins by expressing confidence in God in the midst of earth-shattering, mountain-moving circumstances. It goes on to speak of raging nations and tottering kingdoms. In the midst of the tumult and tempest we are told to be still—for that is precisely the time we most want to take action: to run, to flee, to fight.
These words in the psalm seem almost too gentle, though, as if a mother is gently cooing to her crying baby, "Shhh. Settle down. Everything will be all right." But lest we underestimate the importance of ceasing, we need only look back at the Ten Commandments to understand God's priority:
Remember the Sabbath day, to keep it holy.
Exodus 20:8
The Hebrew word sabbath carries the sense of cease striving, put down, lay aside. What does it look like to sabbath—to cease—in a culture that values work over rest, labor over lazing, doing over not doing? I like how Pastor Eugene Peterson described the Sabbath day for he and his wife: They did nothing they had to do; it was a day of play and pray.
At the risk of overlooking the importance of a Sabbath day each week, I want to focus simply on the ceasing aspect.
Play and pray. Good advice. Not only weekly, but daily we need to stop, put aside our work, take a break, and just rest. Read a comic. Sing a song. Take a walk. Pray. Get a drink of water.
It's a wise principle: don't rest from work, but rather work from rest. That is, the best work flows out of a rested person; rested mentally, physically, emotionally, intellectually, and spiritually. It's why weekends and vacations are important. It's also why we need breaks in the middle of the day.
Another time we'll look at a weekly sabbath. For now, take a break.