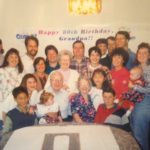 Racing, shameless, breathless, the old man never took his eyes off the ghost as he ran. It must be … but it couldn't be. His son? A bewildering tangle of relief and horror, of joy and fear, muddled his mind. The face, though sunken and empty, unmistakably belonged to his son; yet the unfamiliar silk rags hung limply from an unrecognizable frame gaunt with starvation—not the chiseled proportions of a youth born to the hard work of a rancher.
He nearly fell over reaching for his son, but the boy had collapsed at the old man's dusty feet. From a throat parched and dry came the word he'd longed for months to hear: "Father…." Like sweet, cool water pouring over his head, the word refreshed his heart, bringing life where death had dwelt.
Father, I have sinned against heaven and before you. I am no longer worthy to be called your son.
If he heard the words, he paid them no mind. Lifting the boy to his feet, he held him tightly, fearful of letting go, of once again losing his son, of waking from this dream at the end of a nightmare. "Father…." His son lived!
With arms around each others' waists, father and son walked slowly home. No more words passed between them. Both choked back tears, the thoughts of each absorbing the past months, wondering what the next would bring. A servant, in wide-eyed wonder, emerged from the house. "Quick!", the master commanded. "Bring sandals and my best robe! My son has returned! My son is alive!"
As the boy bathed, washing off months of deceit and despair, the father barked orders to other servants: "Butcher the calf! Set the tables! Assemble the musicians! Tonight we celebrate!"
And so they did. And no funeral, no memorial, no celebration of life, before or since, was ever such a party. Life had returned to the valley of death.
---
This is Part IV in a series looking at the story of the Prodigal Son. Find the earlier installments here:
Part I: It Wasn't Hard to Leave That Day
Part II: Alone with the Pigs
Part III: The Prodigal Father