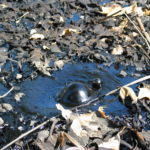 In the heart of Los Angeles, California, in the shadow of towering skyscrapers and next to the very 21st-century Museum of Art, a geologic phenomenon bubbles up from deep beneath the surface of the earth: black asphalt. Trapped in the asphalt are thousands of years worth of fossils: bison, wolves, mammoths, and sloths; spiders, insects, and birds; sticks, leaves, and grasses.
Visitors to the La Brea Tar Pits and the George C. Page Museum are treated not only to well-preserved skeletons and archaeologists at work on active digs, but also to the pungent aroma of the tar that seeps up in the middle of the otherwise-green lawns of the surrounding park. It is a sticky and stinky museum!
The tar pits that so easily trapped unsuspecting animals offered a poignant metaphor recently as I prepared to preach on Colossians 3. In this compelling passage, the apostle Paul urges his readers—already convinced of their salvation through Jesus—to live in light of that salvation. Look up!, he says. Keep your hearts, eyes, and minds fixed on Christ.
But then he adds these words of warning: "Put to death whatever is earthly in you…."
Paul knows we can't keep our eyes on Jesus when our noses are filled with the stench of death – when we're walking through the tar pits.
What are some of the tar pits that entrap us? "Sexual immorality, impurity, lust, evil desires, and greed, which is idolatry. … Anger, rage, malice, slander, and filthy language [and lying]." It's a comprehensive list, but by no means exhaustive.
When I was in training in the Air Force, i had a roommate who used to read two things every night before bed: Playboy and a Bible – in that order, at first. But as the weeks of training went on, the order switched. By the end of our two months, the Bible no longer sat on his nightstand but was tucked away in a drawer; only the magazine remained.
As my roommate learned, it's hard to stay focused on life when you're walking in a graveyard; it's hard to keep your eyes up on heavenly things when you're constantly looking down at what's "earthly."
You died with Christ, Paul says, but you've also been raised with Him. So put to death what belongs to death, and live a life of life.
What about you? Have you been raised with Christ? Then what do you need to put to death so that you can live with your eyes up, on Christ?
Keep your head up!