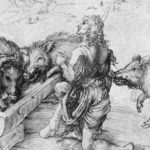 (This is Part 2 in a story of the prodigal son. Read Part 1 here.)
The desert was no place for a man in silk. Blowing sand pierced the fine cloth, peppering his skin. It stung his unprotected eyes, burned his face.
Weak, hungry, alone, he cursed the sand and wind, cursed the city that mocked him, cursed the useless silk, cursed his birth. He cursed his father's birth to the pastoral life from which he'd run. An unfamiliar odor assaulted his sand-whipped nostrils; he cursed the stench. Then, through squinted eyes he saw it: a herd of swine, their irritated squealing riding the wind toward him. He cursed the unclean beasts even as he hoped the drovers might spare him some bread.
"For a price," they said. "Stay with this swine this night. What they don't eat is yours."
This night became two, then five, then a month. The famine that starved the land tore at his stomach. He watched in vain hope that the pigs would leave more than scraps, but even their rations were meager and their owner dared not feed them less; even in famine, no one wanted to buy a skinny pig.
Finally, lying awake, cold, and hungry in the desert night, sense came to him. The life he'd so longed to escape—the animals always needing care and feeding, the constant repairs to fences and troughs, the bucolic boredom—these were again his lot … minus the plentiful food on his father's table. Even the ranch hands ate better than he ate now.
But how could he return? How could he possibly face again the father whom he had all but declared dead when he demanded his inheritance? Could he humble himself before the man he had so humiliated? Yet nothing could be more humiliating than his present state: silk rags torn and stained, body reeking of pig dung, hair and beard filthy and matted. It was decided then; he would return, fall on his knees, and beg for employment as a ranch hand.
It hadn't been hard to leave that day, so many months before. It wasn't hard to leave this day, either.
Part 3 coming soon….