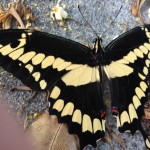 It was just laying there on the sidewalk—a big, beautiful butterfly. Papilio cresphontes; Giant Swallowtail, as we learned later.
My wife was walking our dog when she saw the butterfly on the ground. It didn't move when she bent down for a closer look, and so, thinking it was dead, she wanted to bring it home and preserve its beauty. Until it hopped a few inches away.
She tried again. Again, it hopped away. Obviously not dead, but was it only a matter of time? A couple more tries, a couple more hops, and then… the wings stretched out in that groggy, not-quite-awake kind of stretching we do when we're struggling to rise too late out of a too-deep sleep.
The beautiful black and yellow wings carried the Papilio a few feet more before one final burst of life lifted him into the air to do what butterflies do: grace the air with the lightness of a falling leaf, the tiptoed dance of a ballerina on the stage.
Mesmerized, my wife realized what she'd been hearing in the podcast coming through her earbuds: Look at the birds (or the butterflies). They don't plant or harvest or store away any food for tomorrow, for your heavenly Father feeds them. And aren't you more valuable to him than they are?
On this day, God wanted that Giant Swallowtail to fly again—and to demonstrate his love to my wife. She needed that. So did I.
But something else also struck me as she shared this. That butterfly had seemed nearly dead, and it probably was. Sometimes that's how we feel, too. Life has beaten on us for so long that we almost can't take it anymore. Getting out of bed is exhausting. Getting the kids to school, buying groceries, making dinner… the most normal, uneventful parts of life threaten to unravel us.
We've faced death and loss and grief and hopelessness for so long, all we can do is lay down like that butterfly.
But like that butterfly, I think God wants us to fly again. It may take a few frightened hops, some groggy stretching of our wings… but I think we'll get up in the air. And someone watching—like my wife with that butterfly—will see us and praise God. And maybe they'll get up in the air again, too.