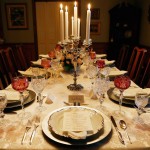 Holy Week—what is it? We tend to focus more on the second word, week, than the first; for many, a legitimate synonym to Holy Week is Spring Break, with all the connotations that phrase carries. But what is Holy Week? And why is it holy?
Holy isn't just about righteous living, and it certainly isn't just about religious living. Holy means "set apart for sacred purposes." It is a distinction between the common and the sacred, the ordinary and the God-focused. Perhaps the best picture is the difference between the dishes and silverware we use every day and that special set we bring out only at holidays or for special guests: the wedding china and the silverware.
Holy Week is so much more than spring break, so much more than just a week off school. It is a week set apart for the sacred purpose of drawing near to God; of setting the table of our heart with the good china and inviting Christ to dine with us each day.
"Behold, I—Christ—stand at the door and knock. If anyone hears my voice and opens the door, I will come in and will dine with him, and he with me." (Revelation 3:20)
Will you make today holy? Will you set apart this day, this week, for Jesus Christ? Will you set your table for Him?