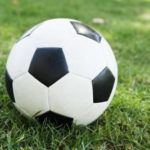 Fall 2016 will be my fifth year coaching youth soccer (and probably eighth season helping). From 2011-2013 I coached my daughter's U8, U10, and U12 teams in the Sierra Gold Soccer Club in Placerville, CA; in 2014, I coached her U12 team with La Mesa AYSO.
The Beautiful Game. There are good reasons soccer is the world sport: It's a great teacher of life lessons, like teamwork and resiliency. Pushing yourself to get better. Winning humbly and losing graciously. It is also one of the few sports in the world that, as soccer legend and my hero, Pelé, writes, "literally anybody can play—you can be small, tall, strong or slight, but as long as you can run and kick, you're perfectly suited to take a soccer field." And all you need is a ball.
Read about My Coaching Philosophy.