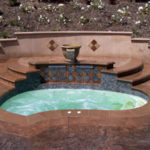 A couple weeks ago I said different ways of reading the Bible could be compared to taking a walk, driving a car, or flying across the country. Just as different modes of travel will give different perspectives on the land, so each way of reading the Bible offers unique insights.
Today I want to talk about one way, but I'm going to change the metaphor—from taking a walk to soaking in a hot tub. Some might call this meditation; but because that word can scare some people away, I prefer to use the hot tub image: we soak in the Word (the Bible) so that we can soak the Word in.
Soaking in the Word means sitting quietly with a short passage for a long time. Maybe it's a dozen verses; maybe only one or two. Read it. Read it again. Read it aloud. Read it in different translations.
Then sit quietly. Does one word or thought penetrate your mind? Look again at the text and find that word or phrase. Turn it over in your mind. Chew on it, as it were.
Read the passage again, slowly. What's happening in your heart? …your mind? …your soul? Do the words encourage you? Do they bring refreshment or peace in the midst of chaos? Or is there a challenge in them—a behavior to change, a sin to confess, a relationship to mend? Talk with God about what you are sensing. Ask for forgiveness, courage, or strength; or say thank you for the encouragement. Praise Him for reaching into your soul.
Finally, sit quietly with God. Sometimes I imagine Jesus sitting on the couch with me, or across the table, just being quiet and enjoying each other's company. Other times I imagine myself curling up in Abba's—the Father's—lap and resting my head on His shoulder. Enjoy God's presence.
---
Further thoughts: I've been spending some time soaking in Colossians 3 over the past few weeks. It is a rich, challenging, and encouraging passage. Let's look at the first few verses.
If then you have been raised with Christ, seek the things that are above, where Christ is, seated at the right hand of God. Set your minds on things that are above, not on things that are on earth. For you have died, and your life is hidden with Christ in God. When Christ who is your life appears, then you also will appear with him in glory. (Colossians 3:1-3, English Standard Version)
If then: Sometimes if means, maybe you have, maybe you haven't; and sometimes it means, since or because. That's the sense here—Because you have been raised with Christ…. There is a confidence here, a certainty about our relationship.
So what? So, seek…[and] set your minds on things that are above, not … on the earth. It's a matter of perspective. Am I seeking only what's on earth—job, security, home…? What does it look like to seek what's above—the things of God? What does He want me to seek?
Take some time today to soak in this passage. See what God does in you.